NORDUCH DKUCH NV-02 KBHV-05 - ÅRETS VACKRASTE HEELER 2002 & 2005
Hägerbos Mejtrix "Moa" S21476/2000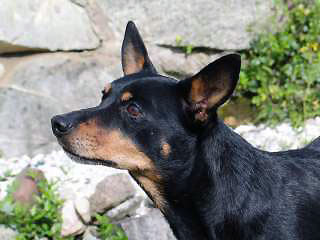 DNA TESTAD NORMAL FÖR CRD
DNA TESTAD BÄRARE/CARRIER FÖR PLL
Ögonlyst som valp / Eyetested as a puppy
2000-04-18
UA / CLEAR
Ögonlyst / Eyetested
2003-03-11
UA / CLEAR
Ögonlyst / Eyetested
2004-10-11
UA / CLEAR
Ögonlyst / Eyetested
2005-10-12
UA / CLEAR
Ögonlyst / Eyetested
2006-11-22
UA / CLEAR
Patella Undersökt / Patella tested
2002-09-19
UA / CLEAR 0/0
MH Beskrivning genomförd / Mental Description done
2005-05-21
STAMTAVLA / PEDIGREE Inavelsgrad 8,6 % i Genetica - Inbreeding 8,6 % from Genetica


MULTICh

Tumlex Mac
DNA TESTAD BÄRARE/CARRIER PLL

SUCh

Mumrik
Foxthyme Special Edition
Brynshults Mumma

SUCh

Scarex Clever Cindirella

SUCh SV- 90


Chollagem Wiffy Smiffy

SUCh NUCh


Winder Double Gem

SUCh

Hägerbos Inez
DNA TESTAD NORMAL CEA
DNA TESTAD CLEAR PLL

SUCh

Scarex Gems Donovan

SUCh NUCh SV-91


Tushielaw Dougal At Nalu

SUCh NUCh


Winder Double Gem

SUCh

Stardogs Ticky Woo

SUCh SV-90


Chollagem Wiffy Smiffy
Risehill Trixie
Moa
vill alltid vara i centrum och att bli ompysslad. Moa pratar ofta med oss tvåbenta genom olika läten. Moa är en tuff hund som älskar att hjälpa matte valla in får som rymt. Moa är min första hund och jag var med henne vid födseln. Vi har aldrig gått en kurs i lydnad men hon är otroligt lättlärd och arbetsvillig. Jag vet alltid vart jag har henne och hon viker inte en tumm från min sida. Moa utvecklades sent och var länge en ful liten ankunge ( men aldrig i mina ögon). Vid 2 års ålder hade hon växt till sig och hon hade utvecklats till en ståtlig svan. Moa älskar att leka och busa och hon börjar redan när besökaren står i dörren, med att hämta sitt trassel och lägga på deras skor. Hjälper inte det hoppar hon upp i knät för att sedan stirra blint på besökaren och sedan trasslet.
Det finns en sak som Moa älskar mer och det är bollar. Totalt bolltokig och kan sitta hela dagarna med att antingen "döda" bollen eller att lägga den i knät på folk. För mig kommer Moa alltid att vara min diamant, mitt allt.
Moa is the star of this farm and just loves to show of, at dogshows. She like to be in the center of all things. Moa often talks to us by diffrent kind of sound. Moa are a tuff dog who likes to help me heard sheep who has escaped from their penn. Moa are my first dog and I was with her at birth. We have never been on a obedience cours but she learn quickly and loves to work with me. I allways know where she is, by my feet. Moa developed late and was an uggly ducling as a puppy. At the age of 2 she had grown into big beutiful swan. Moa just loves to play with her ragdoll and she starts of just as the visitor go trough the door, by laying her ragdoll on their feet. If that dosn't help she jumps up on their lap and stairs at them with a hard eye.
There is one thing she loves more than her ragdoll and that is a little ball. Totally ballcrazy, she can spend all days by either killing it or puting the ball on peoples laps. To me Moa allways gonna bee my diamond, my everything.

Hotpot Gina Gigas "Gina" Född 2 juni 2006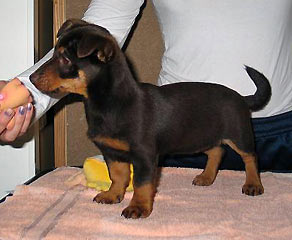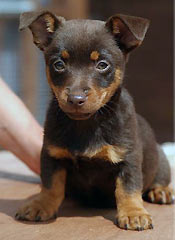 DNA TESTAD NORMAL FÖR CRD
DNA TESTAD NORMAL FÖR PLL
Ögonlyst som valp i GB / Eyetested as a puppy in GB
2006-08-17
UA /CLEAR
Ögonlyst i Sverige (6 månader gammal) / Eyestested in Sweden, 6 month old
2006-11-22
UA /CLEAR
Ögonlyst / Eyetested
2009-07-15
UA /CLEAR
Patellaundersökt / Patella Tested
2008-07-02
UA /CLEAR 0/0
STAMTAVLA / PEDIGREE Inavelsgrad 24,8 % i Genetica - Inbreeding 24.8 % from Genetica


Hotpot Barney Rubble-05
DNA TESTAD NORMAL CEA
Doddsline Kristen-97
DNA TESTAD NORMAL CEA
DNA TESTAD CLEAR PLL
Doddsline Lord at Swanndale
DNA TESTAD BÄRARE/CARRIER PLL
Doddsline Lady Sarah
Hotpot Twinkle Little Star-03
DNA TESTAD NORMAL CEA
Doddsline Pete
Simonsville Tazmin by Doddsline -02
Doddsline Doris-01
Doddsline Kristen-97
DNA TESTAD NORMAL CEA
DNA TESTAD CLEAR PLL
Doddsline Lord at Swanndale
DNA TESTAD BÄRARE/CARRIER PLL
Doddsline Lady Sarah
Doddsline Trish
Doddsline Cracer
Telpoolwyn Claret Lady of Doddsline
Gina
charmar oss alla. Hon flinar och dansar gärna på bakbenen. Hon är otroligt härlig och älskar barnen och deras leksaker. Tugga på allt är hennes
stora hobby för tillfället. Smart som bara den, när matte gömmer Rebeccas barbiedockor, lyckas hon på något vis ändå hita dem, klättra upp för att
hämta dem och sedan tugga sönder dem.
Men otroligt glad och underbart härlig. Påhittig och envis. De stora hundarna låter henne komma undan med det mesta så hon hittar på en hel del hyss.
Hon är våran lilla ängel. Hon är jättesvår att få ett bra kort på, där hon visar sin fina färg....men vi jobbar på det!
Uppfödd utav Kay Critchlow, Kennel Hotpot, England.
Gina has charmed us all. She smiles and often dances on her backlegs. So wonderfull and loves to play with the kids and theire toys. Her big hobby at
the moment is to destroy everything in her way. When I hide Rebeccas barbie dolls, she still finds them, climb up to get them, and then kill them. She is
a very haapy little dog and so nice to be with. She is stubbern and often finds alot of things to do for her self.
The big dogs lets her get away with everything so at the moment she is a monster, but our little angel. She is very hard to take a picture of, were she
shows her beutiful colour....but we are working on it! Bred by Ms Kay Chritchlow, Kennel Hotpot, England.


Procordias Six Ninja At Axa's "Ninja" Född 9 maj 2012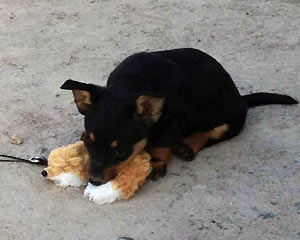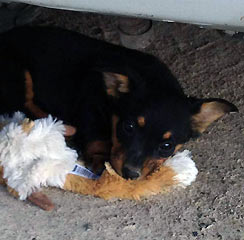 Both Parents tested free from PLL and CEA
Ninja
är vår nya import från Norge. Hon kommer så småningom att gå i avel. Vi har stora planer för Ninja och förhoppningsvis kommer hon utbildas till
narkotikahund. Båda hennes föräldrar är fritestestade för både PLL och CEA (DNA). Hon är full av bus och en väldigt tuff liten tjej. Hon hänger på det
mesta, och är väldigt social fast egensinning ;)
Uppföd av Ellen Brekke, Norge, Kennel Procordia
Ninja is our new import from Norway. She will later be used in our breedingplans. We have big plans for her and hopefully she will be a trained drug dog. Both parentts are tested free from PLL and CEA. She is full of mischief and a very tuff little girl. She will go along on most things and are very social but has a mind of her own
Bred by Ellen Brekke, Norway, Kennel Procordia


HIGH FIVES YOU CAN'T CATCH ME "MAJJA" S61453/2007


Tänder / Theeth 6+6 Saxbett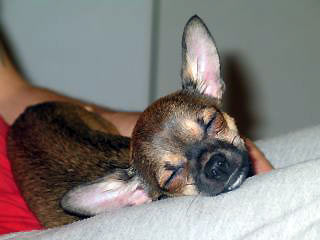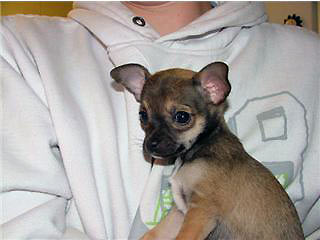 | | | |
| --- | --- | --- |
| Patella testad/ Patella tested | 2008-10-12 | UA /CLEAR 0/0 |
STAMTAVLA / PEDIGREE Inavelsgrad 0 % i SKKs Avelsdata - Inbreeding 0 % from SKKs Avelsdata


Tuhkimon Talisman

FINUC EECh INTUCh


Nikoli's Coco Jamboo

FINUCh


Copymear Jazzman

FINUCh


Nikoli's Lady In Waiting
Ada
Namkliv Pinoccio
Crawford Hosanna
Tuhkimon Mollamaija

FINUCh


Pumuki De Arlejo
Poncho De Arlejo
Silva De Arlejo
I

NTUCh FINUCh EECh LVCh


Tikawis Sea Pearl

SUCh NUCh SV-99 ITCh


Ohlala Trendy Size
Tikawis Lady White Socks
Majja
är nytillskotten är hos oss. . Tror inte att hon är en liten hund utan hänger som en trasa i de andra hundarna. Tuff och framåt och älskar att
sitta i knät, och allra helst under husses tröja. Hon älskar barnen och beteer sig som en katt. Hon är en otroligt härlig hund och hon har en given plats
hos oss.
Man undrar ibland om hur det var innan hon kom till oss. Majja är inte som en vanlig chihuahua, hon skäller nämligen inte. Inte heller tror hon illa om
någon. Hon älskar allt och alla. Hon är tunn i sin typ. Uppfödd utav Cathrine Hidegren, Kennel High Five's.
Majja is our newcomer. She dosen't think she is smaller than the rest of the pack and she hangs in their tail and ears all the time. She is tuff, outgoing
and just loves to sit in someones lap, but most of all she loves to sit under Anders coat. She loves the kids and acts like a cat.
Majja is a wonderfull dog and she has a given place at our home. Majja is no regular chihuhuahua, because she dosen't bark. She dos not think anyone is
bad, she loves everyone. Sometimes we wonder how it was before she came here. Bred by Cathrine Hidegren, Kennel High Fives
UPP PÅ SIDAN